Jieda thick film heater heating elements from inside to outside are mainly composed of stainless steel tube substrate, internal insulating dielectric layer, resistance heating layer and external insulating dielectric layer. Water flows through the stainless steel tube. The thickness of internal insulating dielectric layer is about 100 microns. Because the heat conduction distance from resistance heating layer to stainless steel substrate is short, the water flows through the stainless steel tube. The thermal resistance is very small and the thermal response speed is fast. Among them, the advantages of application are thick film Heating Tube, barrel-like structure, natural waterway, 360 degree overall channel heating, the overall heating is more uniform, will not cause a large number of bubbles on the surface of the heater and reduce heating efficiency. Because the heat can be transmitted in time, the surface temperature of the whole heating tube is not high enough to cause an open flame. Good safety and long service life.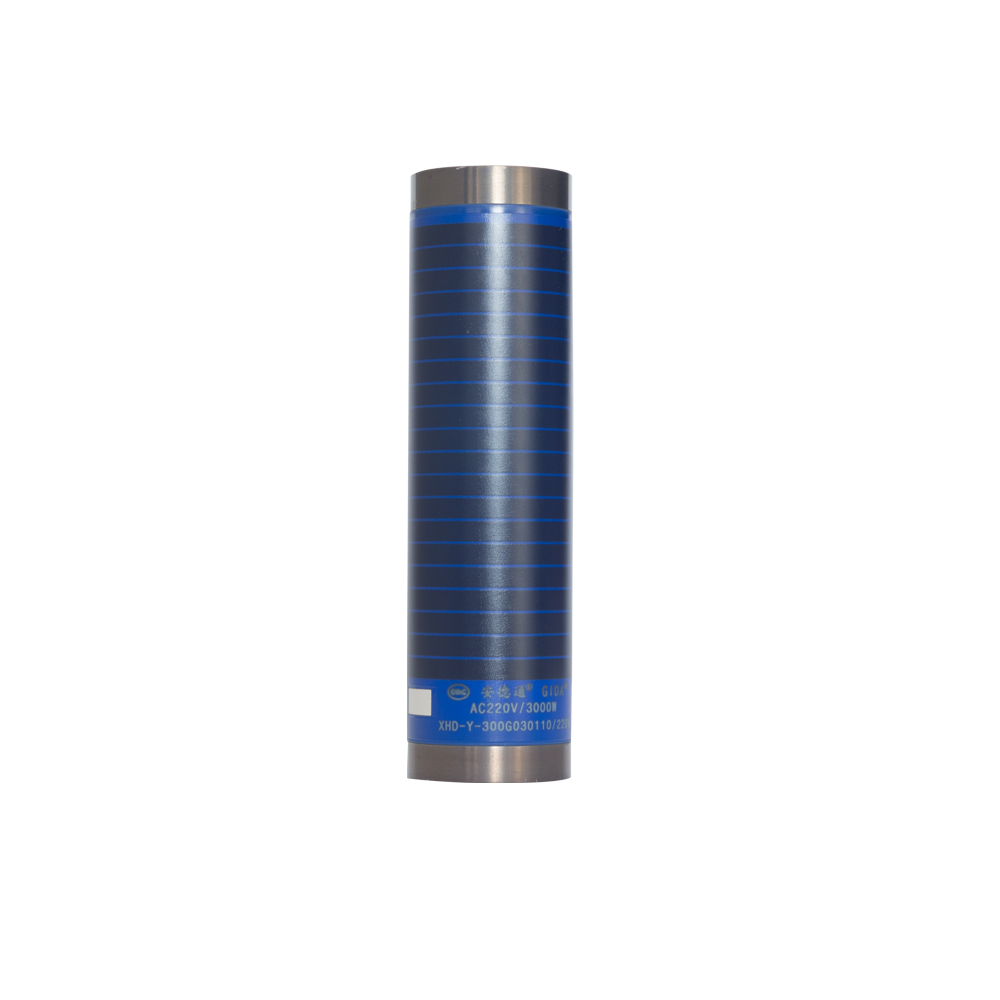 What are the advantages of using special thick film heater ?
(1) Time-saving: ordinary water dispenser need to start up for more than 3 minutes before they can produce hot water, and this stainless steel thick film heater can produce hot water as soon as it is turned on through direct heat transfer and pipeline design, which greatly saves time of heating.
(2) Energy saving: Because of the direct contact between the stainless steel thick film heater and water, the heat transfer efficiency is high and the time for heating the same amount of water is short.
(3) Reduce waste: Because of the use of stainless steel thick film design, there will be hot water as soon as the machine is turned on, so you can use as much hot water as you need, without any extra waste, and ordinary water kettle have to wait for all the water in the tank to be boiled before drinking.
(4) Controllable water temperature: Because of the design of water channel and the control of power, the outlet temperature can be adjusted as your requirement. Jieda Gidape stainless steel Thick Film Heating Tube has high electric strength, which can withstand 1250V high-strength insulation, and its thermal efficiency is higher than 98%.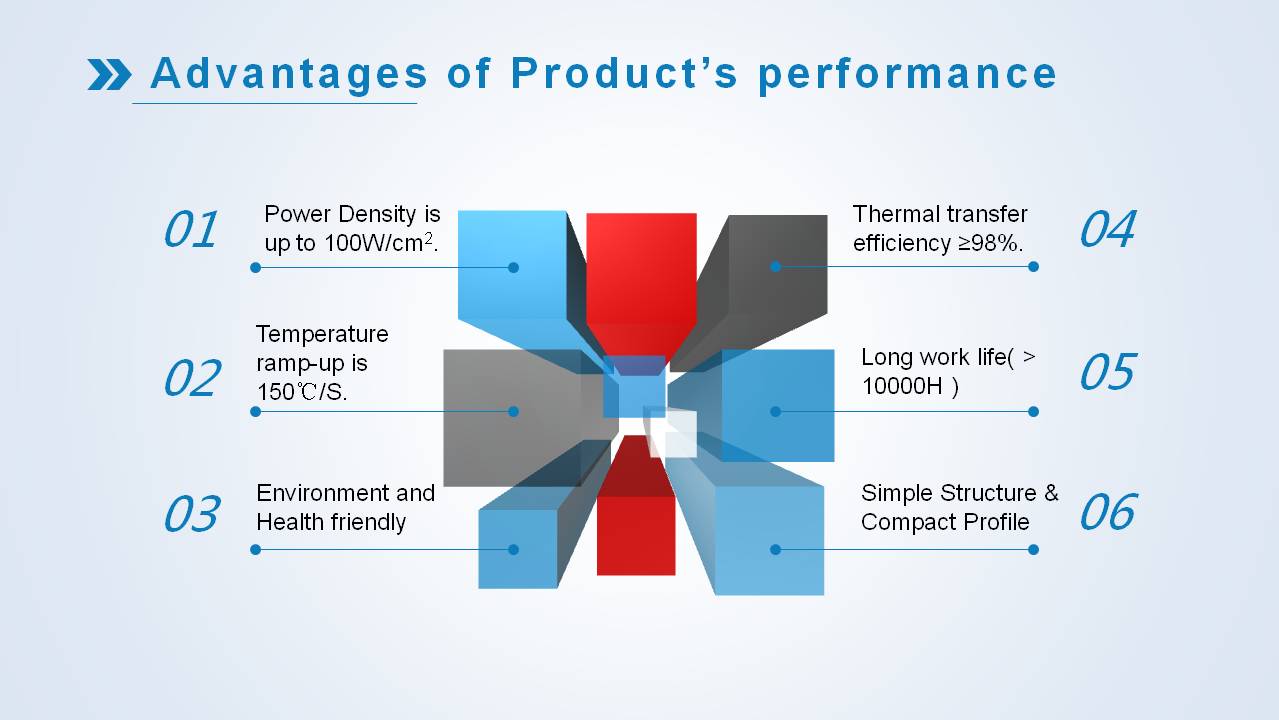 Instant electric fluid Heating Element

's high power density makes the temperature ramp up quickly, thermal should be taken away fast. So that we design it in tubular structure, which allow water flow inside tube. The electric heating circuit is made on surface's insulation layers, covered by another insulation layer. Electric and water flow are insulated.
On the basis of the thick film heating tube, we develop Thick Film Heating Element. Instant electric fluid heating element
a
ssemble is made up by stainless steel thick film heater, plastic shield, interface connectors, thermostats, NTC Sensor, wire socket and so on.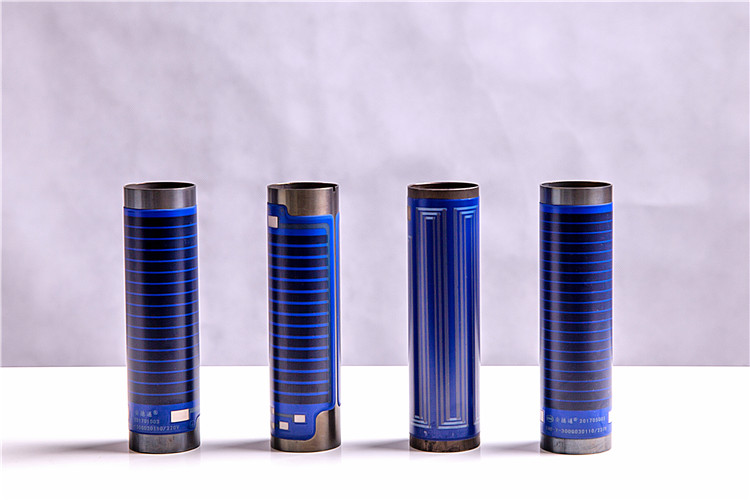 The parameters of thick film heating elements
| | | | |
| --- | --- | --- | --- |
| Product Model XHD-Y- | 220G030110/220V | Product application | Water dispenser/Water purifier/water kettle |
| Product Size | 30MM*110MM | Fixing manner | Fix from sides/Fix from end |
| Tube Size | 030mm*110mm | Water inlet&outlet connector size | Φ10mm |
| Standard Power/Voltage | 2200W(+ 5% ~ -10%)/220V | Lead time | 25 Days |
| Optional power | ≤3300W | MOQ | 1000 pieces |
| Electric strength | ≥1250V/5mA/60s | Main Components | Heating tube/connector/thermostat, Temp.sensor/sprial column |
| Bearing Pressure | ≤2Mpa | Product certification | CQC,ROHS,Wading health approval documents |
Because of the small size, our 2200w Electric Heating Element with thermostant is our sale's star, which is widely used for water tap, water kettle,water purifier, sous vide,coffee machine and medical care machine.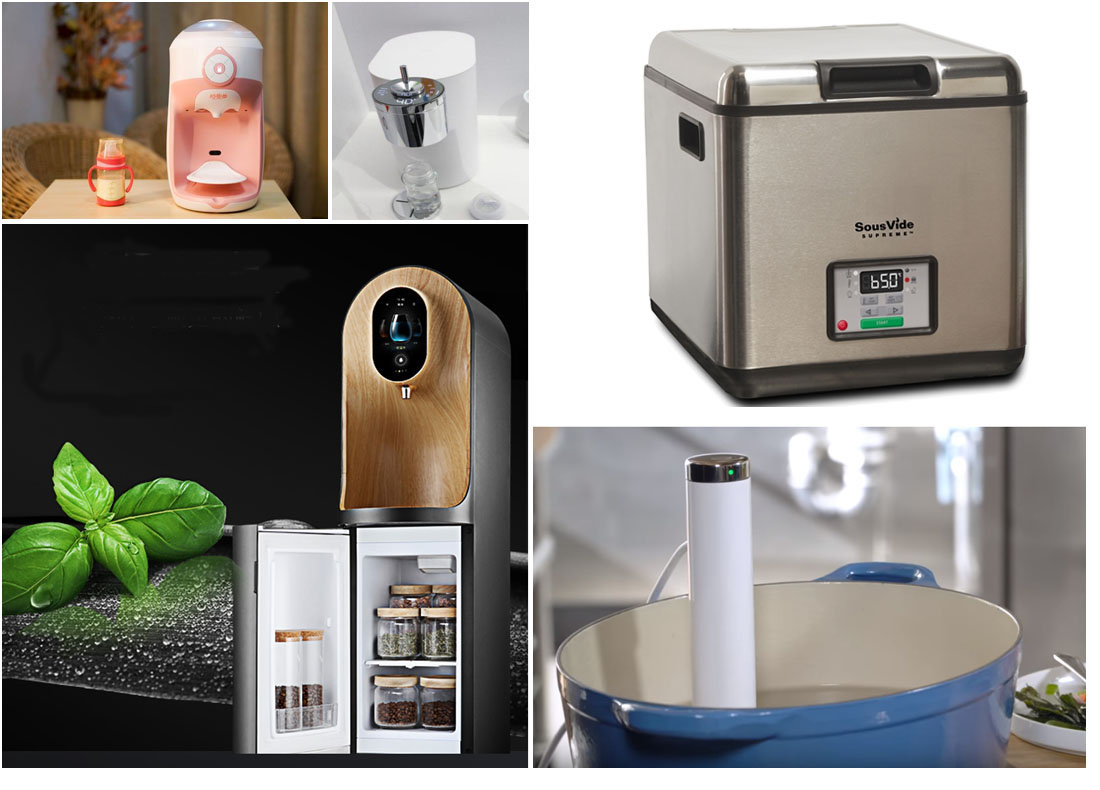 Smart water heater Use precautions
1, The product temperature rising rate is greater than 80 ℃~150℃/S, so, please ensure that the tube is filled with water before use.
2, The pipe must be installed vertically when heating liquid, the direction of liquid flow is from the bottom up. To avoid local dry burning, please add water at first, and then connect to power.
3, Based on different powers, the user should ensure the minimum flow, while ensuring smooth water access to the pipe, so as to avoid vaporization and dry burning.
4, Pay attention to the surface heat dissipation; and due to a big power density, please also pay attention to the rate of heat exchange.
Brief introduction of our Company
Since its establishment in 2012, Jieda has been focusing on R&D and mass production of thick film heating pipes. The stainless steel thick film heating pipes produced by Jieda are widely acclaimed for its high thermal efficiency, stable performance and safety and durability. Jieda GIDAPE® ANDETONG® series stainless steel thick-film heating tube has four invention patents, dozens of utility model patents, we are also the first domestic company who produces stainless steel thick film products with CQC certification, wading health approval documents, ROHS certification.