Gida`s thick film heating technology provides an innovative new way to deliver heat to various applications that require a compact heating solution. Greater control of your heating applications can now be achieved with this breakthrough technology that offers a high-performance, low-profile design that can be intimately fitted to flat and cylindrical surfaces.
The direct surface contact of the thick film heater allows the heat to be put precisely where it`s needed. Thick film also provides superior heat transfer and fast thermal response. Glass-based films provide a non-porous surface that prevents moisture absorption.
Thick film resistance heaters are constructed of several layers of material. These materials consist of a substrate, a base dielectric material, a resistor layer, a conductor layer and a final dielectric layer.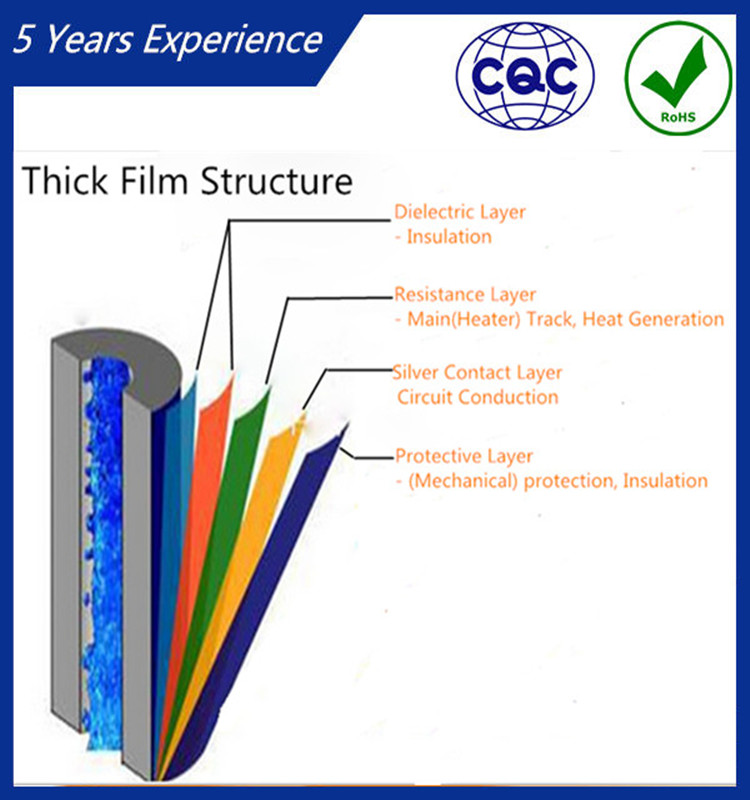 Origin of thick film technology
The thick film heating technology is new type of heating technology which is developed mainly by DuPont and Heraeus in 1990s. They invent the electronic paste which can be used on the stainless steel substrate firstly.Thick film constitution is using the technology of silk-screen printing and high temperature sintering, the thick film Heating Tube was covered in order by sinter dielectric layer, resistance layer, silver conductor layer and isolation glazes protective layer.
The instant Thick Film Heating Tube of the Jieda GIDA® ANDETONG® series have the advantages of large heating area, high heat conduction efficiency (≥98%), fast thermal response (80 ℃~150℃/S), long working life (≥10000 Hour) and other significant advantages.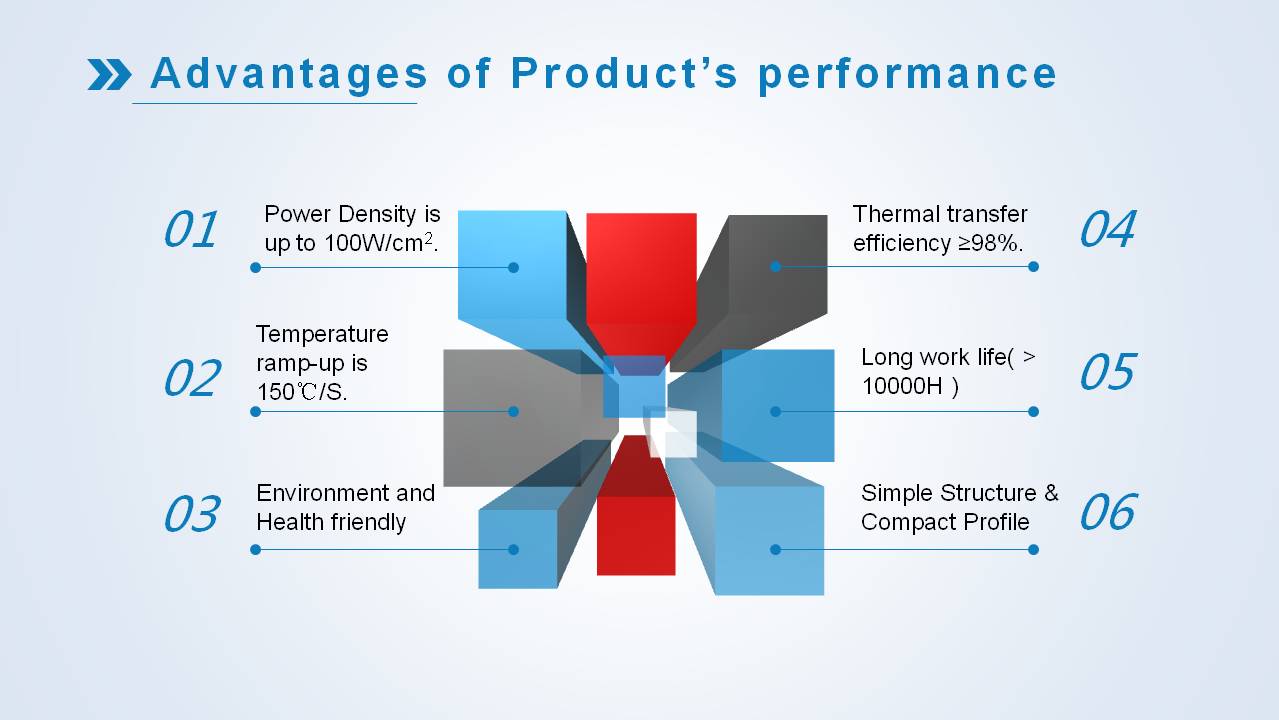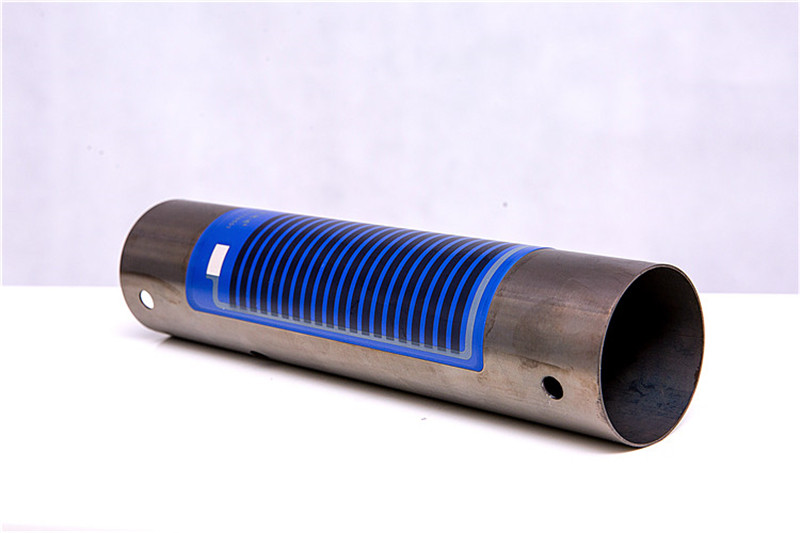 With its simple tubular structure, thick film heating tube can heat water flow inside the tube. Electric Circuit printed on tube surface, to heat the water flow inside.
The parameters of smart heating element
Product Model




XHD-Y-320G063262/230V




Product application




Water dispenser Electric faucet Water purifier Water boilor




Tube Size




063mm*262mm




Substrate




SUS430/444




Standard Power/Voltage




3200W (+ 5% ~ -10%)/220V




Lead time




25 Days




Optional power




≤60

00W




Customized period




40 days




Optional Voltage




220V/230V




MOQ




2000 pieces




Electric strength




≥1500

V/5mA/60s




Wiring manner




High Temperature Tin Welding




Insulation resistance




≥

50MΩ




Product certification




CQC

.

ROHS

.

Wading health approval documents,FDA,CMA



Because of the small size with high power density,
Φ35mm instant heating tube
is our best selling products. This thick film heating tube with PTC effective is widely used for car heating systems, water heater, Hot Water Dispenser, milk frothers,sous vide,water kettle, coffee machine and medical care machine.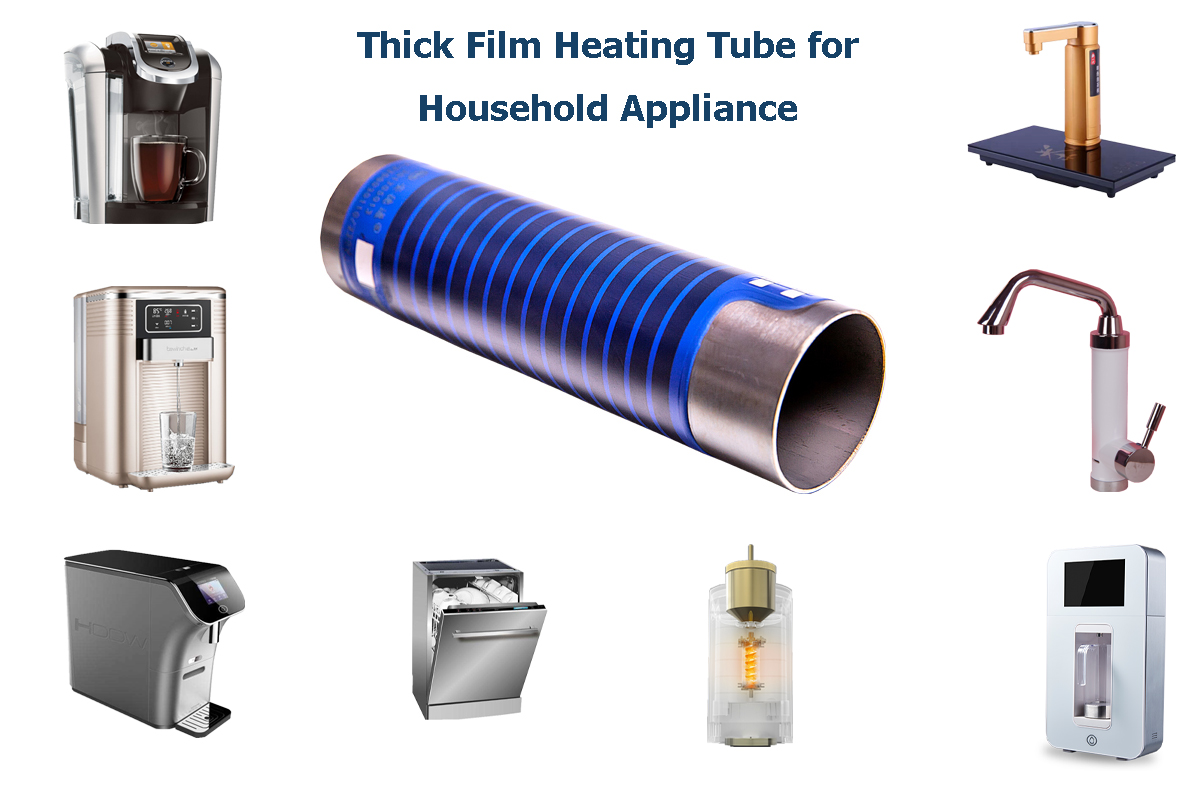 Product use precautions of
Electric Heating Tube
1, The product temperature rising rate is greater than 80 ℃~150℃/S, so, please ensure that the tube is filled with water before use.
2, The pipe must be installed vertically when heating liquid, the direction of liquid flow is from the bottom up. To avoid local dry burning, please add water at first, and then connect to power.
3, Based on different powers, the user should ensure the minimum flow, while ensuring smooth water access to the pipe, so as to avoid vaporization and dry burning.
4, Pay attention to the surface heat dissipation; and due to a big power density, please also pay attention to the rate of heat exchange.
Brief introduction of our Company
Since its establishment in 2012, Jieda has been focusing on R&D and mass production of thick film heating pipes. The stainless steel thick film heating pipes produced by Jieda are widely acclaimed for its high thermal efficiency, stable performance and safety and durability. Jieda GIDAPE® ANDETONG® series stainless steel thick-film heating tube has four invention patents, dozens of utility model patents, we are also the first domestic company who produces stainless steel thick film products with CQC certification, wading health approval documents, ROHS certification.